Simunition training, where the rubber meets the road
For longer than I probably care to admit, I thought I had a good grasp of what I'd do if the SHTF. Some of you may have thought the same thing, or heard the proverbial lines "If someone breaks into my house I'm gonna (insert tactics here)…" or "If I get into a gunfight I'll…"
I'm here to tell you, unless it's actually happened to you, you have no idea. Outside of armed combat, I'd offer the next best thing is Simunition® training.
Full disclosure, I'm high drag, low speed and have never pulled a gun in anger in my life. I shoot competitively and would consider myself a decent shot. That being said, my first sims class was an eye-opening experience. It's all fun and games until you have to go up against the likes of Jerry Jones, Michael Wray, and Bruce Gray – and oh yeah, they get to shoot back at you!
If you've never heard of or experienced force-on-force training with non-lethal training ammunition, think paintball on steroids. Sims uses conversions kits of real life pistols/rifles and a proprietary marking round. They are very accurate at distance, and trust me, you'll know if you get hit.
Inside Simunition Training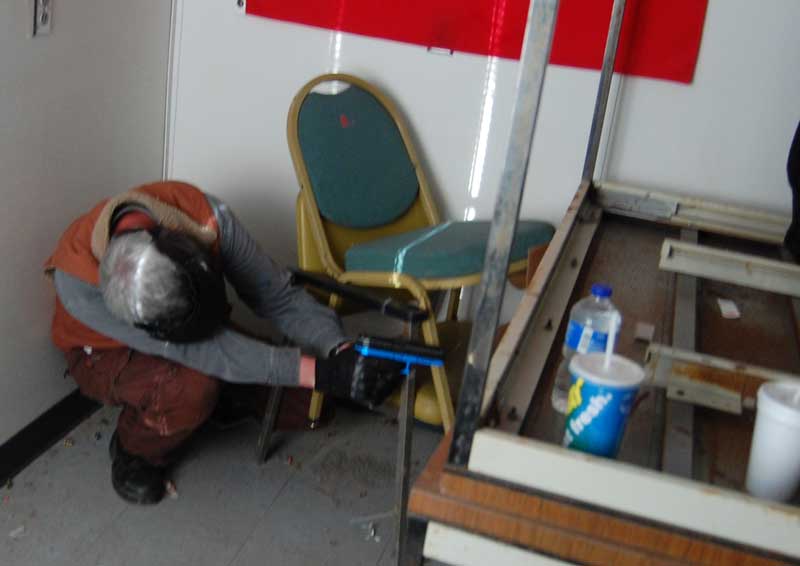 My first sims class was right after I joined the OpSpec ranks. It consisted of five scenarios, all based off of actual real-world situations. While I don't want to give away too much (and the curriculum has changed a bit), I can tell you that skinning the smoke-wagon isn't always the best choice. No one wants to hear "Congratulations, you're going to jail for shooting an unarmed man."
The force-on-force portion of the class built on two days of learning "tactics" – how to slice the pie, conventional and unconventional shooting positions, light discipline and the like. The culmination of these two days ends with you against two SWAT operators and a multi-time international shooting champ, who's also a deputy sheriff.
As I mentioned before, not every problem is solved with the gun. It's more a "thinking" class than a "shooting" class. The motto of our class was "Stupid Should Hurt." If you were stupid (not applying what you were taught), the hurt would come in the form of catching a sim round or two.
What was amazing was the things I did not do. I vividly remember my first round in the shoot house. Sight alignment and trigger control went right out the window. In a world where you're held accountable for every round that leaves your firearm, that's not a good thing. As things progressed, you get a little used to it. But some of those "oh here's what I'll do" things just didn't happen – I was too dealing with the adrenaline, my heart going 180 bpm, trying to process things, all while trying to avoid being shot. I'll say it will give you a newfound respect for first responders and combat veterans.
As a minor aside, one thing that has stuck with me over all these years is just how heavy a fully loaded Glock 19 can be. Holding it out at arm's length for 10+ minutes while clearing a shoot house makes a 30oz gun feel like 50lbs.
Honestly, I'm quite surprised force-on-force classes aren't more popular. I personally think it's one of  the best training classes anyone who carries a gun can take.
Find out for yourself.
https://opspectraining.com/wp-content/uploads/2018/02/simunition-training-02.jpg
566
800
Kyle Sandlin
https://opspectraining.com/wp-content/uploads/2015/11/opspec-training-logo.png
Kyle Sandlin
2018-02-26 10:56:23
2018-02-26 10:58:12
Simunition training, where the rubber meets the road