Advanced Carbine Marksmanship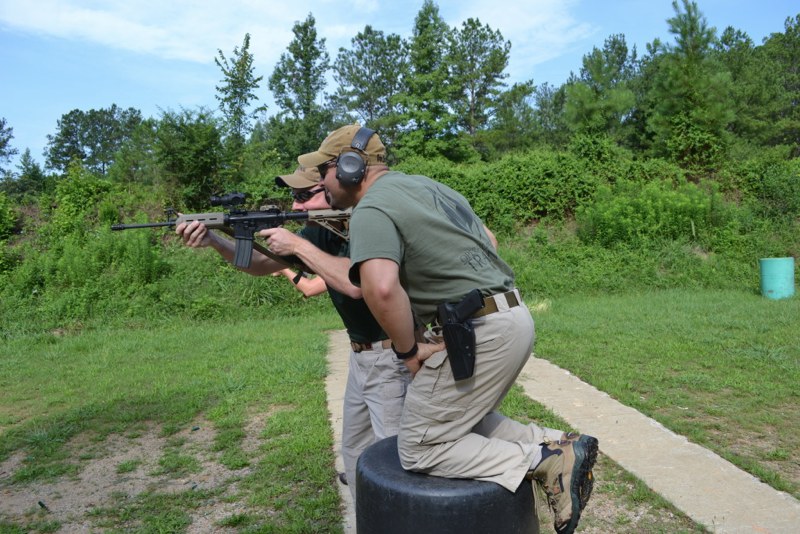 The one-day Advanced Carbine Marksmanship course is for a shooter who wants to become faster and more accurate for defensive or competitive shooting. This course places a heavy emphasis on process oriented technical marksmanship to solve various marksmanship challenges. The goal of this course is to take the shooter through a series of logically organized problems, and equip the shooter with the ability to solve them. This has been described as a very mentally challenging course that pays a dividend in overall technical skills.
This is an advanced level course.
Advanced Carbine Course Objectives
All course objectives will be achieved with a strong emphasis on safety.
Understanding "visual patience" and applying it to technical marksmanship.
Cultivating the ability to drive the gun aggressively.
Understanding technical marksmanship concepts and how to apply them to the tactical/defensive and practical competition world.
Understanding value based training drills.
Understanding process oriented versus results oriented marksmanship.
Required Equipment
Programs held at SIG SAUER Academy include free loan of firearms, holsters, safety glasses and hearing protection at the Epping, N.H. location.
AR/SCAR/MCX rifle chamber in 5.56/.223 equipped sight, or a modern pistol caliber carbine (PCC) with sling and red dot
A minimum of 10 dummy rounds specific to your rifle or carbine
Kydex belt or paddle holster
A minimum of three magazines
Some safe means to carry magazines, on your person, to recharge your firearm twice times (e.g. two magazine carriers/pouches)
Wraparound eye protection
Hearing protection (electronic hearing protection is recommended)
Weather and temperature appropriate attire
Jeans, BDUs, or canvas type pants are recommended
Gloves, socks, boots, Under Armor, rain coat, etc.
Cleaning and maintenance supplies for daily pistol maintenance
600-800 rounds of appropriate caliber ammunition
First, review the general overview of What to Bring to a Carbine Class.
For this specific class, you'll also need to bring:
Rifle with sling and red dot sight.
At least 10 dummy rounds.
A minimum of three magazines with carrier.
Course fees vary depending on location and are subject to change. The fees will be listed for classes when the dates are announced.
Please contact us if you have any questions regarding course fees, group rates or law enforcement exclusive programs.
Classes listed are not in date order. If none are listed, we do not have any on the schedule at this time.
Sorry, no classes on the schedule at this time.